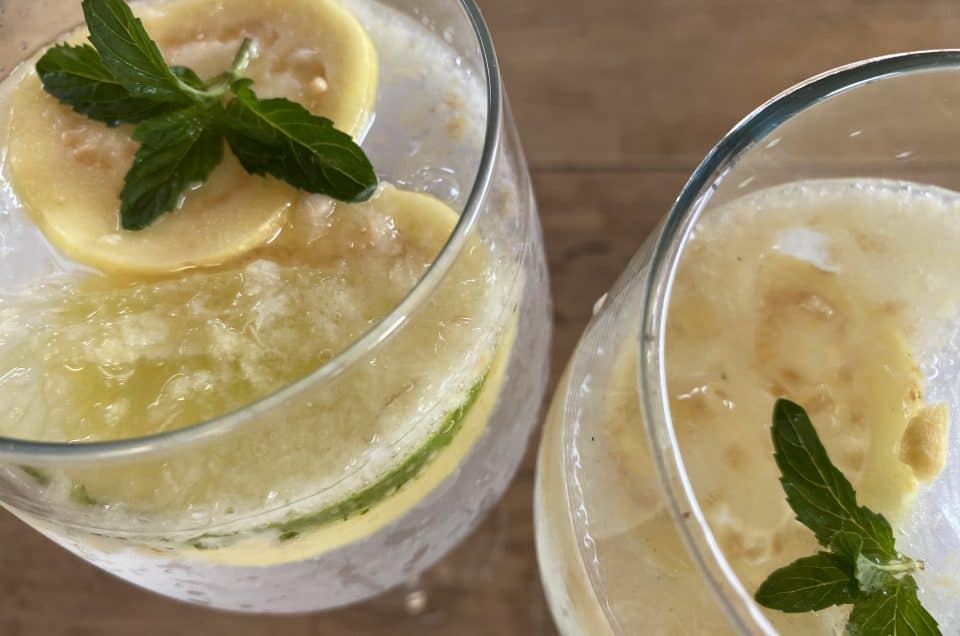 So, my cocktails have been a hit!  It is a big part of the La Villa Bonita experience as I bring in cool and fun drinks while we are cooking.  I thought I would do another right?  This one is so delicious.  Guayabas or guavas as they are called in different places are the state fruit of Morelos where we are located.  People from Morelos are called Guayabos.  Now add in some ginger, some gin and you have a fabulous, fruity and refreshing gin and tonic.
Reserve. Support. Donate. Keep La Villa Bonita Cooking! Make your reservation with flexible open dates and a big discount or reserve with a deposit of $500 USD. Donate at gofundme http://gf.me/u/xrm8w7 All donations apply to future reservations and will keep our employees safe at home. Help Chef Ana keep her promise of an episode a day as we get through this together!
Recipe (2 servings)
1 Ripe Guayaba or Guava
2 slices of fresh ginger
2 slices of lime or lemon
2 small tonic waters (296 ml each)
2 small club sodas or mineral water  (296 ml each)
4 shots of gin
Ice
Shaker
Place the gin in the ginger and the guava slices in a shaker and macerate.  Add in ice and shake hard.  Pour into 4 glasses with ice and squeeze lime in each.  Add 3 parts club soda to 1 part tonic to fill the glass and mix with a spoon.  Add a guava slice to garnish. Open up hatch and consume!