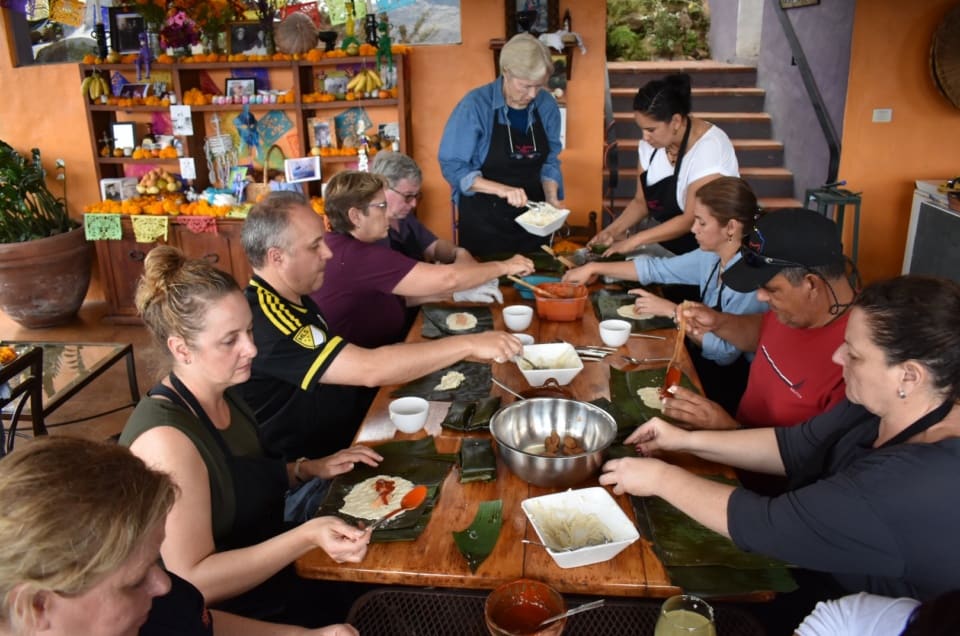 La Villa Bonita Culinary Vacations is listed by the Wall Street Journal one of 5 luxury learning vacations where you can bring back more than a tan.  Vacationers are looking more and more for an experience that they can learn a new skill.  Why are learning vacations one of the hottest vacation trends and how does La Villa Bonita fit the bill?
 Bring it home.  The traditional Mexican cooking technique will stick with you for a lifetime.  Chef Ana teaches technique that you can use in your daily life.  How to prepare a chile, a salsa, a mole and use the ingredients that you have on hand.  What Chef Ana teaches you is more than a recipe, but a way to introduce traditional Mexican technique in your daily life.  Guests bring the La Villa Bonita kitchen table home with them and share the joy with others.  Many of our guests make inspired Mexican meals with their friends and family upon their return and share the experience.
Cultural understanding.  When you participate in a learning vacation like La Villa Bonita you bring back more than just recipes, you bring back a cultural understanding and a love of Mexico that will stick with you.  In this day and age, that is a huge takeaway.  There is a lot of misinformation about Mexico and our guests understand that in the first 15 minutes after you step off our shuttle in La Villa Bonita and Tepoztlan.  Many who don't understand this will ask you "were you afraid?" And you can chuckle and explain.  You can share with others a TRUE understanding of small town Mexico, family life, and the joy of village life.
Create lifelong friends.  Learning vacations attract a certain person – someone open to new experiences, loves new cultures, likes meeting new people.  It is wonderful to see the lifelong friendships that are created during a week of cooking, laughing, exploring, eating.  People from different walks of life and different ages come together and find common ground over the kitchen table making fast friends.  This is also one of the reasons why we receive so many solo travelers – you don't need to bring your group, your group will find you.   Learning vacations create links that last a lifetime.
So when you make your decision about your vacation, think about what you will bring back home with you – just a tan or a life-changing cultural and culinary experience.