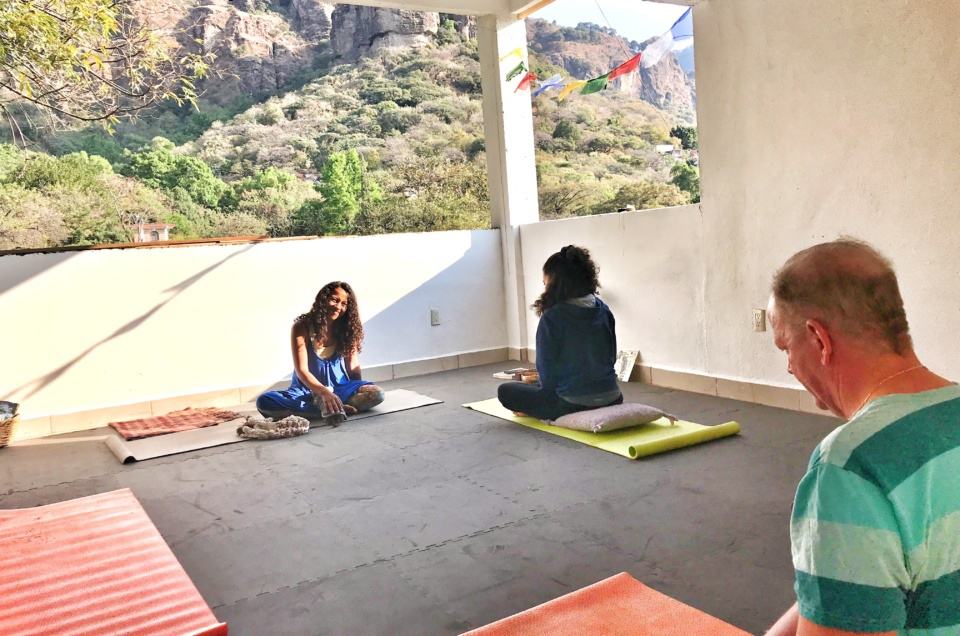 Some people thing that a cooking vacation or culinary adventure is sedentary.  At La Villa Bonita nothing could be further from the truth.  As Chef Ana says, "You enjoy your food more when you have worked up an appetite!"  Here are some of the ways you will work up an appetite:
 We walk!  Tepoztlan is a wonderfully walkable village.  We walk to the market on the lovely and picturesque cobblestone streets, we walk to the tortilla mill and we invite our guests to explore on their own as well.  You can walk from one side to the other and know exactly where you are.  Since the Ex-Convent is always visible and the mountains as well, you always know where you are.
Yoga.  This is a big part of Chef Ana's life and she invites you to join her.  On our regular weeks you can take yoga with her personal teacher, Lu Becerra, on the property on Tuesday and Thursday morning.  We also have our New Year Yoga and Healthy Mexican week where you can start the new year on the right foot, learning traditional Mexican recipes that are full of flavor.  Check our our Yoga and Healthy Mexican New Year experience and lineup of dishes here.
We like to hike.  Chef Ana will take you out on a morning walk with her faithful dog, Mojo to see different parts of the valley.  We chat, we walk, we cross the babbling brooks and pass the small farm plots.  You can hike up to the Tepozteco pyramid and add a hiking excursion up in the mountains on your day off on Saturday.  There are plenty of outdoor activities!
Of course if you have mobility issues, we will accommodate to get you to your destination but we always have the option of walking around the town to visit Ana's providers among other opportunities.  You will get your workout!